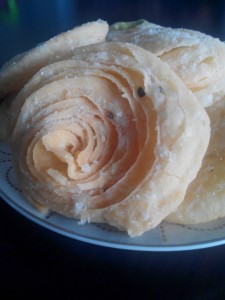 Ingredients
3 cups Maida
¼ cup Ghee/dalda
Salt a pinch
Milk to knead the dough
For paste
4 tablespoon Rice flour
3 tablespoon Ghee to mix
1 cup Sugar powdered
1 teaspoon Cardamom (Elachi) powdered
Pista flakes to garnish
Preparation
1. In a bowl, add the Maida, salt and ghee. Rub with your palm such that the dough appears like bread crumbs. Add just enough milk to make a firm but smooth, soft dough. Keep aside for 10 minutes covered with a wet cloth.
2. Divide the dough into small balls. I made it into 12 balls.
3. Roll each ball with the rolling pin into a thin chapatti.
4. Take 1 chapatti, grease with the rice flour paste on the top side (side facing you).
Tip: if the paste has become thick keep the vessel in hot water to melt.
5. Place a second chapatti; grease the top with rice flour paste….repeat process till all 4 chapattis are stacked. Apply paste on the top side of the last chapatti as well.
6. Roll this stacked chapatti into a tight roll. Cut the roll into 1 inch rounds (pinwheels or disks).
7. Roll out each pinwheel with a light hand. Keep aside.
8. Repeat with remaining chapattis steps 4 to 7.
9. Deep fry till light golden brown and sprinkle sugar powder. Garnish with pista flakes.
Note: The oil should be hot when you put. Then reduce to low and fry for best results.