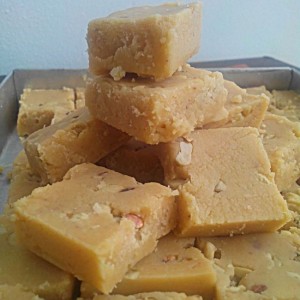 Ingredients
1 cup coconut grated
1 cup besan
2 & ½ cup Sugar
1 cup mil
1 cup melted ghee and dalda mix (use ½ of each)
1 teaspoon elachi
Almond flakes, Pista, Cashew to garnish
Cook time: 40 minutes
Preparation
1. Mix all ingredients in a blender.
2. Heat a heavy bottom pan, pour the mixture.
3. On slow heat, constantly stirring it, cook this mixture till it starts to leave the sides of the pan.
Test: To test consistency, pour a little mixture on to a plat. Cool it completely. When cooled, try to make a ball out of it. If it forms without sticking to fingers then the mixture is ready to take off stove.
4. Transfer the mixture to a greased pan. Spread it evenly using the back of a spatula.
5. Garnish with Almond flakes, Pista, Cashew. Slightly press garnish into the mixture to make it stick. Let it cool.
6. When cooled completely, cut it into squares to serve.