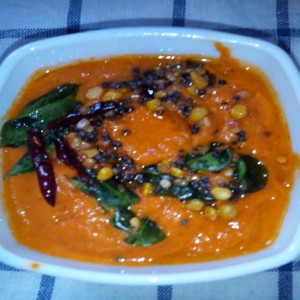 Ingredients:
10 Stem of Cauliflower, cleaned and cut.
10 gms Tamarind
2 Whole Red chillies
2 teaspoon Urad dal
2 teaspoon Oil
8 Garlic pods
3 Green chillies
¼ cup Coconut grated
5 tablespoon Coriander chopped
Salt to taste
For Tempering
1 teaspoon Oil
¾ teaspoon Mustard
¾ teaspoon Channa dal
¾ teaspoon Urad dal
1 whole Red chilly
4 Garlic pods crushed
Few curry leaves
Preparation:
1. Wash the cauliflower stem and cut it into small pieces or cubes.
2. Soak Tamarind in water and keep aside.
3. Heat pan, dry roast Urad dal and Whole Red chillies. Remove from pan and keep aside to cool.
4. Heat oil in a pan, add green chillies and garlic. Sauté till colour changes. Remove from pan and keep aside to cool.
5. In the same pan, sauté the cauliflower stems.
6. When half cooked, add tamarind water. Cook for a few minutes, remove from flame and let it cool.
7. Grind the following ingredients by adding them one by one. Grind well after each ingredient is added.
a. First Grind Urad dal and red chillies.
b. To the ground mixtures add coconut.
c. Once the coconut has been ground, add cauliflower stems, green chillies and garlic.
d. Add coriander leaves.
e. Add water as required. Recommend 1 to 2 tablespoon water.
8. Remove mixture to a serving bowl
9. Heat oil. Add mustard. When mustard starts to splutter add remaining tempering ingredients. Pour the tempering over the chutney.