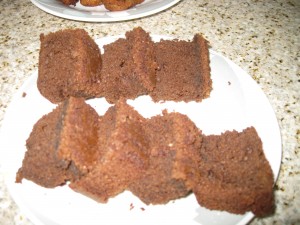 Ingredients
2 Cups Flour
1 cup butter
1 & 3/4 Cups granulated sugar
¾ Cup Unsweetened Coco powder
1&1/2 teaspoon baking powder
½ teaspoon baking soda
½ teaspoon salt
1 cup milk
2 tablespoon instant coffee powder disolved in ½ cup water
4 eggs
1 teaspoon vanila essence
Preparation
1. Preheat oven to 180 centigrade.
2. Sieve the dry ingredients – flour, coco powder, baking powder, baking soda, salt together.
3. Mix Sugar and Butter with an electric mixer till fluffy.
4. Add egg one at a time to the sugar and butter mixture and beat till themixture is creamy.
5. Add the dry ingredients little at a time alternating with milk & coffee to this mixture.
6. Add the vanilla essence.
7. Pour the cake mixture into greased baking pan; bake for 35 – 40 minutes or till a tooth pick inserted comes out clean.
Tips: Add 1 tablespoon curd in the end to the cake mixture for extra moisture in the cake