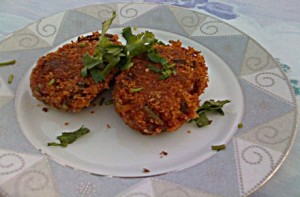 Ingredients
3 medium sized Potatoes
1/2 cup Beans chopped
1/2 cup Green peas crushed
1/4 cup Carrot grated
1 teaspoon Beet root grated
2 slices Bread
1 teaspoon Ginger chopped
2 teaspoon Green chilli chopped
2 teaspoon Lime juice
3/4 teaspoon Garam masala
1 cup Bread crumbs
Salt to taste
Oil to fry
Preparation
1. Boil the potatoes, let it cool, peel and grate.
2. Dip the bread slice in water (quick dip); squeeze out water. Add the bread slices to the grated potatoes.
3. Add beans, carrot, green peas, beet root, ginger, green chilli, lime juice, garam masala and salt. Mix well.
4. Divide the mixture into 8 rounds. Shape into cutlets.
5. Roll in bread crumbs and shallow fry.
Tip: If fresh green peas, blanch and crush. If frozen peas, bring it to room temperature, drain excess water and crush.
It is important that the water content in the mixture is very minimum for good crispy cutlets.