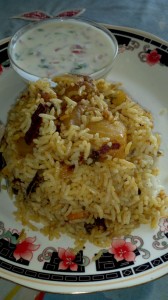 Kappa (Tapioca) is very popular in Kerala. It is often grown in kitchen gardens. Recently I got a few from my sister's garden. Typically in Kerala Kappa is boiled, mashed and served with fish curry or spicy onion chutney.
Ingredients
½ kg Kappa (Tapioca)
3 medium size onion sliced
2 Tomatoes chopped
4 Green chillies
1 tablespoon Garlic paste
1 tablespoon Ginger paste
1 teaspoon Red chilli powder
2 teaspoon Corriander powder
½ teaspoon Turmeric powder Haldi
¾ cup Curd
Salt to taste
1 cup Pudina leaves …1cup
1 cup Coriander leaves
2 & ½ cup Rice (Basmati or Jeera or Sona Masoori)
3 tablespoon Oil
1 tablespoon Ghee
Whole garam masala to make Biryani masala
4 cloves
1 inch Cinammon Stick
1 teaspoon Saunf
1 Star Anise
1 Cardamom
1 bay leaf
½ teaspoon Shah Jeera
Whole garam masala to use when cooking rice
4 cloves
1 inch Cinnamon Stick
1 bay leaf
1 tablespoon ghee
1teaspoon ghee
Salt to taste
Preparation:
Biryani Masala:
1. Dry roast the whole garam masala, cool and grind to powder, keep aside.
Rice:
2. Soak the rice in 3 & ½ cup water for ½ an hour.
3. Add whole garam masala as listed in the ingredients and cook rice. For best results make it in rice cooker.
4. When done keep aside to cool.
Tapioca:
5. Remove the skin (the brown part) and cut the Tapioca into about 1 inch cubes.
6. Boil the Tapioca cubes till half-done. Strain.
Tip: Remember to change water after the first boil in order to remove stickiness.
7. To the cooked Tapioca add masalas (turmeric, corriander and red chilli powder), curd and salt to taste.
8. Add ½ the pudina and coriander leaves.
Garnish:
9. Slice 1 onion, fry to golden brown and keep aside to use as garnish.
Biryani:
10. In a pan heat oil and ghee; add sliced onion and fry till golden brown
11. Add the marinated tapioca and chopped tomato.
12. Cook on high flame for a few minutes.
13. Reduce flame and cook gravy is semi thick.
14. Add 1teaspoon biriyani masala and mix.
15. Heat another heavy bottomed pan. In this pan assemble the biryani as follows:
16. Apply 1 teaspoon ghee to the bottom of the pan.
17. Add ½ the Tapioca masala.
18. Add a layer of cooked rice.
19. Add a layer of pudina and coriander leaves.
20. Sprinkle biryani masala.
21. Add ½ the fried onions.
22. Repeat the layers (Tapioca masala, Rice, pudina and coriander leaves, biryani masala and fried onions).
23. Sprinkle water, close with a lid.
24. Cook on high flame for 5 minutes; Reduce flame to low and cook for another 10 minutes.
25. Let the biryani cool a bit before mixing it well.
26. Serve with Raita.
Tip: To enhance the taste you can add saffron mixed in milk.