Motichoor AppleCrush Cheese Cake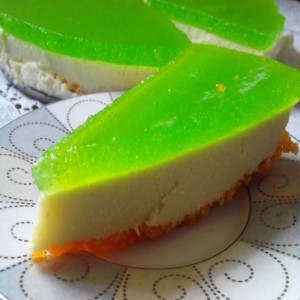 This is a recipe I got from www.Fondbites.com as part of their bake along participation. I have used AppleCrush for glaze instead of their Gulkhand glaze.
Ingredients:
For the base:
Motichoor Laddu – 5 laddus / balls
For Cheesecake:
Cream cheese – 180 gms
Condensed milk – 200 ml
Dairy fresh cream – 200 ml
Thick coconut milk – 1/2 cup
Warm milk – 1/4 cup
Saffron strands – a big pinch, ( depends on how strong you like the flavour)
Gelatin – 2 tablespoons / Veg gelatin powder – 4 tablespoons / China grass strands – 15 gms
Water – 1/2 cup
For Glaze:
Gelatin – 1 tablespoon/ Veg gelatin powder – 2 tablespoons / China grass strands – 8 gms
Water – 1/2 cup
Apple Crush – 20 gms
Preparation
1. To the warm milk, add saffron strands and let it soak for 15 to 30 minutes.
2. Add cream cheese in a bowl and pour condensed milk, fresh cream, coconut milk into it and beat them all together until smooth. This might take just about few seconds.
3. In a bowl add water and gelatin and mix well. Let it bloom for 5 minutes and then microwave for one minute until the gelatin mixture is completely clear.
4. Filter the saffron soaking milk and add it into the cream cheese mixture. To that, add the gelatin mixture and mix well gently with your spatula until everything mixes well.
5. To the prepared pan(Spring form pan), add the motichoor. Break them and firmly press them to the base making sure the sides are sealed well. Level them as much possible.
6. Pour the cream cheese mixture until it reaches to a level on top of which you have space to cover with the glaze.Now place the pan with the cheese cake mixture into the freezer for 30 minutes until firm or wobbly to touch and not sticky.
7. For the glaze, add water in a bowl and to the water add gelatin and let it bloom for 5 minutes. After which microwave the gelatin mixture for 1 minute until clear and then add the apple crush and mix well. Once the cheese cake in the freezer is set nicely, take it out and pour the glaze mixture on top and set it back in the freezer for another 30 minutes until firm.
8. Once its firm enough, you need to remove from the freezer and place it in the refrigerator. They are already ready to be cut into slices and served.
(Recipe Credits: http://www.fondbites.com/?s=motichoor+kesar+gulab)