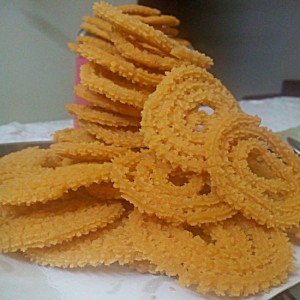 Ingredients
2 cups Rice Flour
½ cup Urad Dal powder
3 tablespoon butter
1 teaspoon white sesame seeds
1 teaspoon Jeera (cumin) seeds
½ teaspoon hing (Asafoetida powder)
½ Red chilli powder
Salt to taste
Water to mix
Oil to deep fry
Preparation
1. In a bowl sift and mix the two flours (Rice and Urad).
2. Add butter to the flour and mix well.
3. Add salt, white sesame seeds, jeera, hing, red chilli powder.
4. Add water little by little and knead to soft dough. Be careful with the water, it should be just enough to bring the dough together.
5. Make muruku using a chakali machine, deep fry till golden brown.