Presentation is a very important part of serving great food. Plating is not something I think about when serving everyday meals. I have been practicing the plating techniques taught in De Chef grooming sessions. Plating is a good way to control our portions, eat healthy and include all the appropriate food categories (carbohydrates, vegetables, proteins) on our plate. I recently served Mushroom Korma, Mushroom Biryani and sauteed vegetables for lunch. I had the time to prepare each plate and my family had the patience to indulge me while I tried different plating techniques. Here are a few pictures for you. I do think I have to work on my photo techniques!!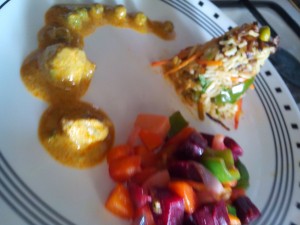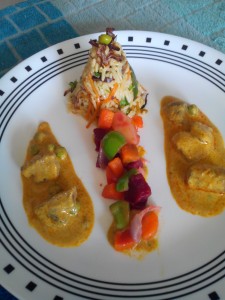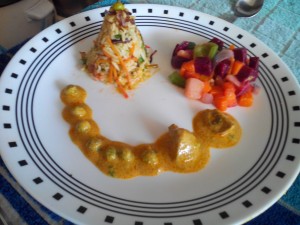 Ingredients
For Cooking Rice:
1 cup Rice
1 & 1/2 cup water to soak.
1 teaspoon ghee
4 cloves
1/2 inch Cinnamon
1 teaspoon ghee
Salt to taste
For Mushroom Gravy:
1 cup Mushroom. Cut each mushroom into 4 pieces.
1/2 cup curd
1 Onion sliced
1 Green chilli
1 inch piece ginger
6 cloves garlic
1 teaspoon coriander powder
1/2 turmeric powder
1/2 teaspoon red chilli powder
1/2 teaspoon garam masala powder
3 tablespoons Oil
3 tablespoons carrot cut into julienne
3 tablespoons capsicum cut into julienne
2 tablespoons Coriander leaves chopped
2 tablespoons mint leaves (pudding) chopped
1 onion sliced and fried for garnish
Preparation
Cooking Rice:
1. Wash and soak rice in 1&1/2 cup water for 30 minutes.
2. Cook the rice with ghee, salt and whole spices. For best results make it in rice cooker. When done, fluff with a fork and keep aside to cool.
Cooking the mushroom gravy:
3. Marinate mushrooms in curd with turmeric, red chilli and corriander powder for 30 minutes.
4. Heat oil, fry the one sliced onion till golden brown. Keep aside for garnish.
5. In the same oil, add crushed ginger, garlic, sliced onion, green chilli. Sauté everything till the onion is translucent.
6. Add marinated mushroom and cook till done.
7. Add garam masala, and julienned vegetables. Saute.
8. Add corriander and mint leaves, saute for a minute. Remove from heat and keep aside for cooling.
Assembling the biryani:
9. Heat another heavy bottomed pan. In this pan assemble the biryani as follows:
10. Apply 1 teaspoon ghee to the bottom of the pan.
11. Add ½ the mushroom gravy.
12. Add a layer of cooked rice.
13. Add a layer of pudina and coriander leaves.
14. Repeat the layers (Mushroom gravy, Rice, pudina and coriander leaves).
15. Sprinkle water, close with a lid.
16. Cook on high flame for 5 minutes; Reduce flame to low and cook for another 10 minutes.
17. Let the biryani cool a bit before mixing it well.
18. When done, garnish with friend onion. Mix well before serving.
My Mushroom Korma Recipe. Please try my Potata Korma recipe.