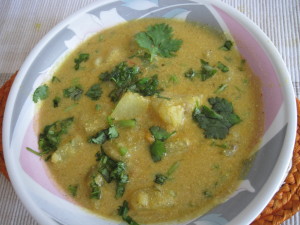 Ingredients
3 tablespoon oil
2 Potatoes
1 Onion
3 green chillies
1 teaspoon ginger garlic paste
¼ cup curd
4 tablespoon coconut grated
6 Cashew nuts
3 Almonds
½ teaspoon turmeric powder
1 teaspoon chilly powder
1 teaspoon corriander powder
Water as required for gravy.
Salt to taste
Corriander leaves
Curry leaves
Preparation
1. Boil the potatoes and cut into 1 inch cubes.
2. Grind cashewnuts, almonds, coconut to a fine paste.
3. Heat oil, saute onion till translucent.
4. Add slit green chillies, ginger garlic paste, and curry leaves. Saute for a few minutes.
5. Add turmeric powder, corriander powder, saute for a few minutes.
6. Add chilli powder and the ground paste and cook for 5 minutes while stirring continously.
7. Add the potatoes, mix well.
8. Add 1 cup of water, cover and simmer till the gravy is thick. Add water as required for thicker or thinner gravy.
9. Add salt to taste.
10. Add the curd towards the end, mix well. Remove the dish from heat after adding curd.
11. Garnish with corriander leaves.