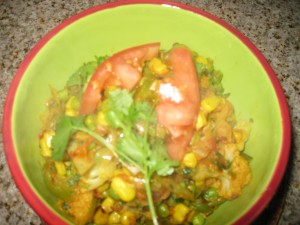 Ingredients
¼ cup Cauliflower chopped
¼ cup green peas
¼ cup corn
¼ cup beans chopped
¼ cup potato chopped
¼ cup capsicum chopped
1 tomato chopped
1 onion chopped
2 cloves garlic
2 green chillies
½ teaspoon red chilli powder
½ teaspoon turmeric powder
1 teaspoon tomato ketchup
1 tablespoon oil
¾ teaspoon Jeera (cumin seeds)
Salt to taste
Corriander to garnish
Preparation
1. Blanche all the vegetables except capsicum.
2. Crush onion, garlic and green chillies.
3. Heat oil. Add jeera; add the curshed mixture to this. Saute for a minute.
4. Add chopped tomato and cook for a few minutes.
5. Add red chilli, turmeric powder and mix.
6. Add capsicum, all the blanched vegetables and salt. Cook till done.
7. Garnish with corriander.