Carrot Cheesecake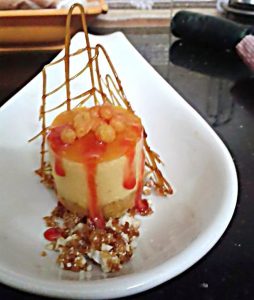 Gajar ka halwa is an all time favorite in my home and so is cheesecake. I had to find a way to combine the two. Here it is a mouth watering sweet treat to beat the summer heat. Enjoy.
Ingredients:
For the base: Carrot halwa
Carrot – 250 grams
Milk – 250 ml
Sugar – 100 grams
Ghee – 1 tablespoon
For Cheesecake:
Paneer or cream cheese – 200gms
Condensed milk – 400 ml (1 small tin)
Fresh cream – 200 ml
Carrot – 300 grams
Sugar – 3 tablespoons
Gelatin – 2 and 1/2 tablespoons
Water – 1/4 cup to soak gelatin
For Glaze: Carrot glaze
Carrot puree of 3 big carrots
Sugar – 3 tablespoons
Gelatin – 1 and 1/2 tablespoons
Water – 2 tablespoons to soak gelatin
Preparation:
1. For the base layer prepare carrot halwa as follows:
a. Grate carrot. In a pan mix milk and carrot. Bring the mixture to boil and reduce till thick. Add sugar and cook till done. Add cardamom powder.
b. Set in a spring form mold and keep it in freezer for 10 minutes.
c. For Garnish, keep aside 1 tablespoon of the carrot halwa to make mini-balls for decoration.
2. For the cheesecake layer, prepare as follows:
a. If using paneer, grate it and keep aside.
b. Boil and cook carrot till tender. Cool the mixture, blend and make puree.
c. Soak Gelatin in water, double boil and melt.
d. Mix grated paneer, condensed milk and sugar in a bowl. Beat them together until smooth. Add carrot puree and gelatin and mix well.
e. Remove the carrot base from freezer (step 1) and add the paneer, carrot mixture on top.
f. Put the pan back in freezer and leave it to set.
g. Test to check if the mixture has set: When touched it should spring back.
3. For the glaze, prepare as follows:
a. Cook carrot, puree it with sugar.
b. Prepare gelatin mixture: in bowl take water add gelatin and let it bloom for 10 minutes. After which
double boil gelatin mixture for 1 minute until clear.
c. Add gelatin to the carrot puree and mix well. Once the cheese cake in the freezer is set nicely, take it
out and pour the glaze mixture on top and set it back in the freezer for another 30 minutes to 1 hour
until firm.
4. Once it is firm remove, from the freezer and place it in the refrigerator. It is ready to be cut into slices and served. Garnish with carrot halwa mini-balls.