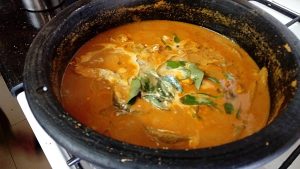 Ingredients
4 to 5 medium-sized fish. Cut to pieces.
2 teaspoon Coconut Oil
8 to 10 Garlic pods
8 to 10 Shallots
Few Curry Leaves
1 tablespoon Coriander powder
1 teaspoon Red Chilli powder
½ teaspoon Turmeric powder
½ cup grated Coconut
2 to 3 green chillies slit lengthwise
2 to 3 Cocum ( kudampuli )
½ cup Thick Coconut milk
Salt to taste
Curry leaves to garnish
Preparation
1. In a pan heat 1 teaspoon coconut oil. Saute garlic, shallots, curry leaves for a few minutes. Add coriander powder, red chilli powder, turmeric, grated coconut. Roast it just till the raw smell goes. Cool and grind to paste.
2. In a manchatti (clay pot) or a deep pan; add the ground paste, with required amount of water and mix well. Add slit green chillies to this mixture. Cook for a few minutes till raw smell goes.
3. Add salt to taste. Add cocum. Bring to boil. Add the fish pieces and simmer on low flame till the fish is cooked.
4. Add the thick Coconut milk and simmer for a few minutes.
5. Garnish with curry leaves and teaspoon of coconut oil. Serve with rice.