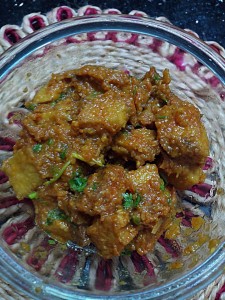 In India, Elephant Yam has a name by each region – Senai Kilangu, Karunai Kilangu, Chena, Jimikand, Elephant Yam. No matter which name you call it by, yam is a favorite of mine.
Ingredients
250 grams Yam (Suran, Jimikand, Chena, Senai Kizhangu, Elephant Yam)
2 Onion
2 Tomatoes
10 cloves garlic finely crushed
2 green chillies
1 tablespoon Corriander powder
1 teaspoon Red Chilli powder
½ teaspoon Turmeric powder
½ teaspoon chat masala
3 tablespoon oil
Salt to taste
Corriander to garnish
Preparation
1. Grind onion to a paste without water.
2. Grind tomatoes to a paste.
3. Wash and cut Yam to 1 inch cubes.
4. Marinate with ¼ teaspoon salt and ¼ teaspoon turmeric and keep aside for 10 to 15 minutes.
5. Heat oil in a pan. Fry the yam pieces and keep aside.
6. In the same pan fry the onion paste and slit green chillies till onion is golden brown.
7. Add garlic and sauté till raw smell disappears.
8. Add the Coriander powder and sauté.
9. Add the red chilli powder and mix.
10. Add tomato paste and cook till oil separates.
11. Add the fried yam pieces and sauté till the masala is coated well.
12. Add ½ cup water mix; cook covered till the gravy is thick, yam is cooked.
13. Add chat masala, adjust seasoning if required.
14. Garnish with coriander leaves.