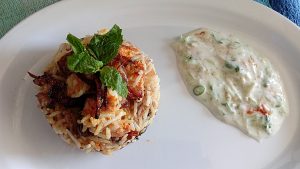 Ingredients
Marinade for Prawns
250 grams Prawns
1 teaspoon Chilli powder
½ teaspoon Turmeric powder
¾ teaspoon Coriander powder
½ teaspoon Jeera powder
1 tablespoon ginger garlic paste
1 tablespoon Coriander leaves chopped
1 tablespoon Pudina (mint) leaves chopped
¼ cup Curd
Salt to taste
For Steamed Rice
250 grams (1&½ cups) Rice
6 Cloves
1-inch piece Cinnamon stick
1 Star Anise
½ teaspoon Shah Jeera
1 tablespoon Oil and Ghee mixed
1 teaspoon Lemon Juice
Salt to taste
2 Onions
Oil to fry
½ cup Coriander leaves chopped
½ cup Pudina (mint) leaves chopped
1&½ teaspoon Biryani Masala
2 tablespoon Oil
1 tablespoon ghee
Preparation
1. Mix all the ingredients listed above under Marinade for Prawns and keep aside for ½ to 1 hour.
2. Wash the rice thoroughly. Soak it with 2 cups water and all the ingredients listed above under Steamed Rice. Soak for an hour or so. Steam cook rice in a double boiler. Keep aside when done.
3. Heat oil in a small frying pan, and fry the onion for 5 minutes or until crisp and golden brown. Set aside.
4. Heat 2 tablespoon Oil and 1 tablespoon ghee in a heavy bottom pan.
5. Add the marinated prawns and saute for a minute.
Layer the Biryani as follows:
6. Add a layer of fried onions, Pudina leaves, and coriander leaves.
7. Sprinkle half of the Biryani powder.
8. Add a layer of the cooked rice.
9. Repeat the layers one more time.
10. Cover the pan with a lid.
11. Cook on high flame for 2 minutes.
12. Reduce the flame and cook for 1 minute.
13. Garnish with fried onions and serve with raita.