If anyone asked me to make something with Aval (Beaten Rice or Rice Flakes) the first things that come to mind are Aval Nanchathu, a popular sweetened snack in Kerala and Poha, savory dish. This year (2015) in September at an Onam cooking competition that I took part in, the participants were asked to make something savory with Aval. My Aval balls recipe was a great success at the Onam competition, the Vanitha Kuala Pachakarani 2015 audition and most importantly with my family and friends. I hope you enjoy it as much as we did.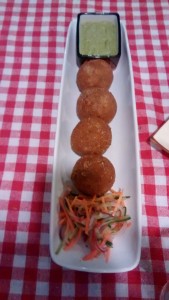 Ingredients
1 cup White Aval (Beaten Rice)
1 Big Potato
1 inch piece Ginger
2 Green chillies
½ teaspoon Amchur powder
Salt to taste
Coriander leaves
½ teaspoon Coriander Pepper masala powder.
Ingredients for batter to coat the balls
¼ cup Cornflour
¼ cup Maida
Bread crumbs
Oil to fry
Ingredients for Stuffing:
½ cup Paneer grated
5 or 6 Kismis
1 tablespoon Cashew nuts chopped
5 or 6 Pista
1 small sized Onion chopped
¼ teaspoon Corriander Pepper masala powder
1 Green chilly chopped
¼ teaspoon Chat masala
Salt to taste
Coriander leaves
Preparation:
1. Wash Aval well (3 to 4 times) and remove water and keep aside.
2. Crush ginger and green chilly. Boil whole potato, remove skin and mash.
3. Mix all the ingredients and make smooth dough. Keep aside.
4. Mix the ingredients for filling.
5. Make balls of the Aval dough to equal size.
6. Flatten the mixture applying oil to your palm and put filling and fold to a ball.
7. Make a batter of cornflour Maida dip the balls in this and roll in bread crumbs.
8. Deep fry till golden brown.