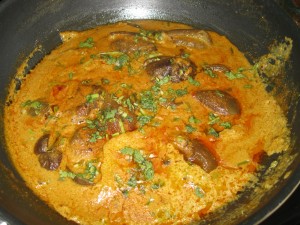 Ingredients
10 Small Brinjals
1 Onion chopped
1 Tomatoes chopped
1 tablespoon ginger garlic paste
For Masala:
2 tablespoon sesame seeds
2 tablespoon ground nuts
2 tablespoon corriander seeds
2 tablespoon coconut grated
1 tablespoon red chilli powder
1 teaspoon turmeric
1 teaspoon garam masala
2 tablespoon Tamrind paste (1 a lemon sized lump of Tamrind soaked in water)
3tablespoon oil
1sp jeera
Salt to taste
Corriander leaves to garnish.
Preparation
1. Slit the brinjal into four without removing the cap.
2. Dry fry each of the following items separately – sesame seeds, groundnut, and corriander seeds.
3. To this add the coconut and mix for a while.Remove and cool.
4. Grind to a smooth paste. Keep aside.
5. Heat oil. Slightly saute the brinjal. Keep aside.
6. In the same oil put jeera; add chopped onion and saute.
7. Add the ginger garlic paste and saute till the raw smell goes away.
8. Add the tomatoes and blend.
9. Add the ground paste and cook till thick.
10. Add the turmeric, chilly powder and mix.
11. Add the tamarind and the brinjal.
12. Add 3/4cup water.
13. Mix nicely and cook covered for 10-15 minutes on slow flame till the gravy is thickened.
14. Add the garam masala and corriander leaves.