Baking for grand children is something every grandma enjoys; I am no exception. My granddaughter is very fond of chocolate and desserts. Well, when she asked for a cake the other day, I could think nothing better than my moist chocolate cake with chocolate frosting. As my granddaughter says "yummy in the tummy!!".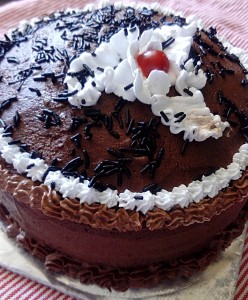 Ingredients
2 cups Maida
2 cups Powder Sugar
3/4 cups Coco powder
2 teaspoon Baking powder
1&1/2 teaspoon Baking Soda
3/4 teaspoon Salt
1 teaspoon Coffee powder
1 cup Milk
1/2 cup Oil
2 Eggs
2 teaspoon Vanilla essence
1 cup boiling water
Preparation:
1. Preheat the oven to 200 degree centigrade. Butter and flour the cake pan.
2. Sift the flour, sugar, cocoa, baking soda, baking powder, coffee powder and salt into bowl and mix well on low speed using a hand mixer.
3. In another bowl, combine the milk, oil, eggs, vanilla essence.
4. With mixer on low speed, slowly add the wet ingredient to the dry. Whisk on medium speed for a few minutes.
5. Reduce speed and pour boiling water slowly into the batter.
6. Beat on high speed for 1 minute, to add air.
7. Pour the batter into the prepared pans and bake for 40 to 50 minutes at 180 degree centigrade or until a cake tester (knife or toothpick) comes out clean.
8. Cool in the pan for 30 minutes, then move the cake onto a cooling rack and cool completely.