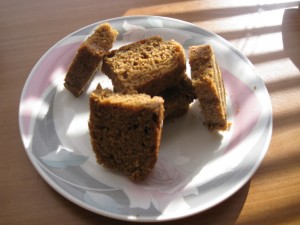 Ingredients
1 Cup Sugar powder
1/2cup Butter
2 Eggs
1 Cup Maida
1teaspoon Baking powder
A pinch of salt
2 Tablespoon coffee powder
2 tbsp Warm Milk
1teaspoon Vanilla extract
METHOD
1. Grease a 8 inch pan &line with butter paper.grease&dust with maida.remove excess by tapping.
2. Prehat oven to 180 degree centigrade.
3. Sift maida,baking powder,salt.Keep aside
4. Separate yolk from white.
5. Mix Milk and coffee powder.keep aside.
6. With an electric beater on medium high beat the eggwhite till white peaks are formed.
7. In a bowl cream butter and sugar till fluffy.
8. Add egg yolk one at a time.Mix.
9. Add vanilla essence.
10. Add the dry ingredients alternating with coffee.
11. Fold in the egg white with a spatula.
12. Pour the batter into the prepared pan &bake at 180 degree for 25 -30 minutes or until a toothpick inserted in the middle should come out clean.
13. Remove cool to room temperature and cut and serve.
Tip.a scoop of vanilla ice-cream topped with chocolate sauce makes an excellent dessert.