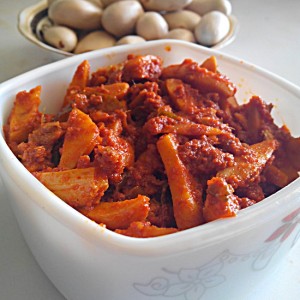 Ingredients
20 Jackfruit Seed
2 teaspoon Red chilli powder
½ tsp Turmeric powder
2 teaspoon Mustard Powder
1 teaspoon Fenugreek (Methi) Powder
3 Lemons juiced
2 tablespoon Vinegar
Salt to taste
½ cup oil
Preparation
1. Remove skin (outer white skin and the inner brown skin) of the jackfruit seed.
2. Cut the jackfruit seeds lengthwise.
3. Heat half the oil and sauté the cleaned jackfruit seeds till half cooked.
4. Add lemon juice, salt and turmeric powder.
5. Remove from flame and add remaining ingredients (red chilli powder, mustard powder, methi powder). Mix well.
6. When the mixture has cooled, add vinegar, mix well.
7. The pickle should be kept aside for 3 to 5 days prior to serving.