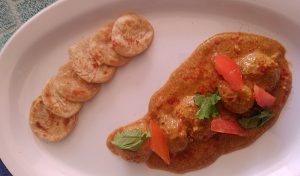 Ingredients
½ pound (250 grams) button mushroom
1 cup (200 grams) green peas
For onion paste:
2 medium sized onions chopped
8 – 10 garlic cloves
1 inch piece ginger
1 tablespoon oil
½ cup tomato puree
1 teaspoon red chili powder
½ teaspoon turmeric powder
1 tablespoon Coriander powder
1 teaspoon garam masala
¼ cup fresh cream
2 tablespoon curd
2 tablespoon oil
Salt to taste
Coriander leaves to garnish
Preparation
1. Clean mushroom. I kept the button part of the mushroom as is and chopped up the stick part.
2. Blanch green peas and keep aside.
3. Blanche tomato, remove skin, cool and grind to purée. Keep aside.
For onion paste
4. Heat oil; fry onion till golden brown. Keep aside to cool.
5. Fry garlic, green chilli and ginger till the raw smell goes. Keep aside to cool.
6. When cooled grind all ingredients (fried onion, garlic, green chilli and ginger).
7. Marinate the mushrooms in about 2 tablespoons of the brown onion paste for 10 minutes. Saute in bit of oil. Keep aside.
8. Heat oil, add onion paste and sauté.
9. Add tomato purée, sauté.
10. Add turmeric, red chili powder, and coriander powder and fry till you get a nice aroma.
11. Add sautéed mushroom.
12. Add green peas, adjust seasoning according to taste.
13. Beat the curd, add to mixture and simmer on low heat for a few minutes.
14. Add fresh cream, check seasoning
15. Garnish with coriander leaves. Serve hot with chapatti or rice.
I made coin parathas, looked good on the plate.