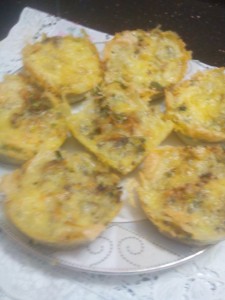 Ingredients:-
4 Eggs
1 cup Mushroom
1 bunch Spinach (Palak)
1 Bell peppers/capsicum
4 to 5 stalks of Spring onions
2 teaspoon Olive oil for greasing
3 tablespoon Grated cheese (Use mozzarella, cheddar or even Amul cheese cubes)
2 teaspoon Crushed black pepper (for vegetables) + 1 teaspoon (to add to the eggs)
Salt to taste
Preparation:
1. Wash all vegetables to be used and chop them into small pieces. Keep aside.
2. Heat oil in a pan; add white part of the spring onions and sauté for 1 minute.
3. Next add chopped mushrooms and sauté until mushrooms is half cooked and it starts releasing water.
4. Add Capsicum, sauté for 1 minute.
5. Add chopped spinach (palak) and the green part of spring onions and sauté.
6. Season with black pepper powder, salt and mix well.
7. Take the filling off the heat. Keep aside.
8. In a bowl add eggs, black pepper, and salt and whisk until combined.
9. Prepare a muffin tray by either lining with silicon cup liners and/or with paper cup liners.
10. Pour the egg mixture into the liners until half filled.
11. Add the sautéed vegetables over the egg mixture.
12. Sprinkle grated cheese on top.
13. Bake it in pre-heated oven at 200 degree centigrade for 25 to 35 minutes or until it is well set and tester/toothpick inserted in the centre comes out clean.
14. Remove from oven and leave in the pan for a few minutes to cool. Serve warm.
Credits: This is a recipe I got from www.Fondbites.com as part of participation in their bake along session.