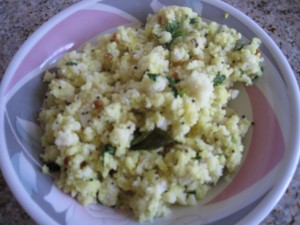 This is an easy and quick evening snack with left over idli. When my kids were in school often I used to make Idlies specifically to make this snack. Here I have given version with lemon; you can try with tomato and vegetables.
Ingredients
6 Idlies
1 small onion chopped
2 green chillies chopped
1 tablespoon lemon juice
¼ teaspoon turmeric powder
1 teaspoon mustard seeds
½ teaspoon urad dal
½ teaspoon channa dal
1 teaspoon oil
Few curry leaves
1 whole red chilli
Corriander to garnish
Salt to taste
Preparation
1. Crumble the idlies.
2. Heat oil. Splutter mustard seeds, add urad dal, channa dal, whole red chilli, and curry leaves.
3. Add onion, green chillies and saute.
4. Add turmeric powder, crumbled idlies and salt. Mix well.
5. Add lemon juice, garnish with corriander.