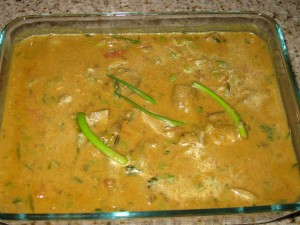 Ingredients
½ pound (250 grams) button mushroom quatered
½ pound (250 grams) green peas
1 medium sized onion chopped
1 medium sized tomato
4 garlic cloves
1 inch piece ginger
1&1/2 teaspoon red chilli powder
½ teaspoon turmeric powder
1&1/2 tablespoon Corriander powder
1 teaspoon garam masala
2 tablespoon oil
Salt to taste
Corriander leaves to garnish
Preparation
1. Blanch green peas and keep aside.
2. Grind onion, tomato, garlic cloves and ginger into a paste.
3. Heat oil; add the ground paste and cook till the oil separates.
4. Add turmeric powder, corriander powder and mix well.
5. Add the quartered mushroom and saute till all the water evaporates.
6. Add the green peas, red chilli powder and salt to taste.
7. Add ½ cup of water, cover and cook til mushroom is quoted with the gravy.
8. Add garam masala and mix well.
9. Serve garnished with corriander.