Red Kidney Beans (Rajma) Curry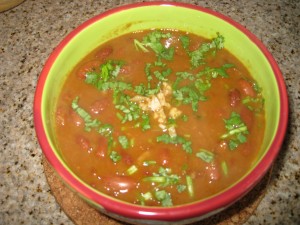 Ingredients
1 cup Red Kidney Beans (Rajma)
1 medium sized onion chopped
1 large tomato chopped
1 tablespoon ginger garlic paste
1/2teaspoon turmeric powder
1 teaspoon red chilli powder
2 teaspoon corriander powder
½ teaspoon jeera powder
1 teaspoon garam masala
2 tablespoon oil
Salt to taste
Corriander to garnish
Ginger juliens to garnish
Preparation
1. Wash and soak red kidney beans in water overnight.
2. Pressure cook red kidney beans.
3. Heat oil, add finely chopped onion, saute till golden brown.
4. Add the ginger garlic paste, saute for a minute; add tomato.
5. Cook till oil seprates.add turmeric powder, corriander powder, jeera powderand mix.
6. Add red chilly powder.Mix and add the cooked rajma along with water.
7. Add salt&cook till the gravy is thickened.
8. Add garam masala&corriander.
9. Serve garnished with ginger juliens&corrianderleaves.
Tips: Slightly smash rajma for thicker gravy.